About Malcolm Bilson
Malcolm Bilson has been in the forefront of the period instrument movement for more than thirty years. A member of the Cornell University Music Department since 1968, where he is the Frederick J. Whiton Professor of Music Emeritus, he began his pioneering activity in the early 1970s as a performer of Haydn, Mozart, Beethoven, and Schubert on late 18th- and early 19th-century pianos. He has been a key contributor to the restoration of the fortepiano to the concert stage and to fresh recordings of the mainstream repertory.
In addition to an extensive career as a soloist and chamber player, Mr. Bilson has toured with the English Baroque Soloists with John Eliot Gardiner, the Academy of Ancient Music with Christopher Hogwood, the Philharmonia Baroque under Nicholas McGegan, Tafelmusik of Toronto, Concerto Köln, and other early and modern instrument orchestras around the world. He was awarded an honorary doctorate by Bard College, is a fellow of the American Academy of Arts and Sciences, and is a recipient of the James Smithson Bicentennial Medal at the Smithsonian Institution in Washington, DC, for his extraordinary lifetime achievements as "a pioneer in the performance of period instruments and chamber music in general." In 2015 he was awarded the Order of the Hungarian Gold Cross by the president of Hungary for his "significant international artistic and scholarly career, and in recognition of his decades-long contributions to Hungarian musical life."
Mr. Bilson has recorded the three most important complete cycles of works for piano by Mozart:
the piano concertos with John Eliot Gardiner and the English Baroque Soloists,
the piano-violin sonatas with Sergiu Luca, (no longer available) and
the solo piano sonatas.
His traversal on period pianos of the Schubert piano sonatas (including the so-called incomplete sonatas) was completed in 2003, and in 2005 a single CD of Haydn sonatas appeared on the Claves label. In the fall of 1994 Bilson and six of his former artist-pupils from Cornell's DMA program in historical performance practice presented the 32 piano sonatas of Beethoven in New York City, the first time ever that these works had been given as a cycle on period instruments. The New York Times said that "what emerged in these performances was an unusually clear sense of how revolutionary these works must have sounded in their time." The recording of this series garnered over fifty very positive reviews and has recently been reissued.
In addition to his activities in Cornell's performance-practice program, Professor Bilson teaches piano to both graduate and undergraduate students. He gives annual summer fortepiano workshops at various locations in the United States and Europe, as well as master classes and lectures (generally in conjunction with solo performances) around the world. Malcolm Bilson is a member of the National Academy of Arts and Sciences.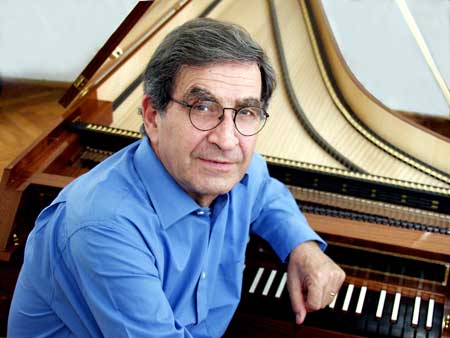 In the news: