CDs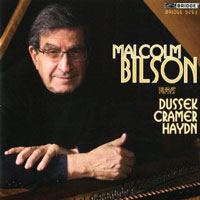 Malcolm Bilson Plays Dussek, Cramer, and Haydn (Bridge)
Excerpt: Dussek Sonata, Rondo, Allegro: moderato e espressivo
This recording features Dussek's revolutionary 'Farewell' Sonata, dedicated to Clementi, Haydn's great E-flat sonata, Hob. 52 21: 10, and Johann Baptist Cramer's delightful variations from The Magic Flute, all played on a replica of a 5½ octave English Pianoforte by Longman & Clementi, 1798, built by Chris Maene. London in the 1790s was a bustling industrial, cultural and musical capital. Johann Baptist Cramer, Muzio Clementi, and Jan Ladislav Dussek, all foreigners, were magnetically drawn to this city with its variegated and sophisticated musical possibilities. These are the first genuine piano virtuosos, and their brilliant pianism and compositions would become known as the London Pianoforte School.
Also available digitally through iTunes and Amazon.